Internal Axial Wedge Wire Screen
Screen Internal Axial Wedge Wire Screens are supplied in cylinder form with the following specification and detailed components:
- 304 SS Material.
- 400 mm. OAL (Overall Length) x OD 423 Nominal screen x ID 400 Nominal screen.
- Profile Wire Width 3.5 mm. x height 5.3 mm.
- Slot 0.5 mm.
- The profile wire is welded with support Rod of Diameter 6 mm. The support pitch 10 mm, centre to centre (Equivalent to 41 round support rods)
- Square cut ends. Fitted with 4 off 19 x 10 solid bars at 90 degrees apart.
Drawing Illustration:
Internal Axial Wedge Wire Cylinder Drawing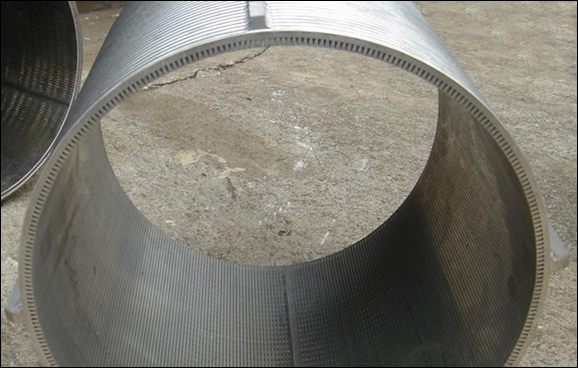 Optional Screen /Filter Types:
Wedge Wire Screen:
Internal Diameter : 148mm
Total Height: 300 mm.
Gap of the wedge wire : 0.20mm
Wedge wire cylinder:
size 4x10', open area 0.7mm, in stainless steel 304.

Uses:
The Stainless Steel Internal Axial Wedge Wire Filter is used for water re-using filtration system. It is also used in various retaining and filtering fields.

This kind of ss wedge wire is to designed to be used for systems of reused the water from the bath and shower into normal toilet. By using this filtration system, a second life is given to that water. The filtration systems are used to eliminate any kind of residue like hair, soap particles. The stainless steel wedge wire cylinder will work as the cartridge filter squeezing inside a filter housing. Popular filter ratings are 0.25 mm (250 micron) and 0.50 mm (500 micron).