Stainless Steel Wedge Wire Grilles
Stainless steel (grade 304) wedge wire grilles are becoming favorite components of architectural designers. Combined with perforated metal panels or expanded metal sheets, the wedge wire grilles can be fabricated in modern airports and other buildings internal and facade decoration.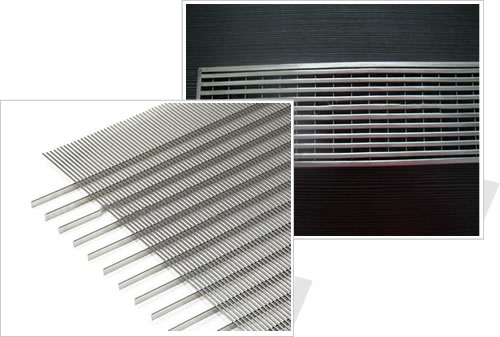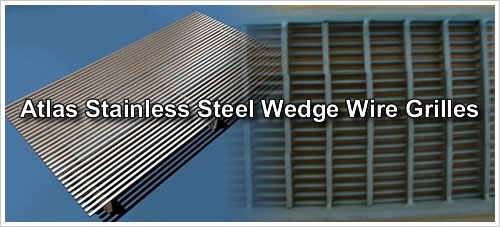 The design for the decorative metal grilles is as follows:
- Grille design - Slots to run horizontally.
- The Stainless steel grille is to provide 50% free area for the movement of air.
- The grill is to be fabricated in solid stainless grade 304 sections with a 240grit brush finish; grain of finish to run with the long horizontal length of the steel.
- Rods are to be welded to the rear face of the profiles and to run vertically set out with 50mm centres.
- The ends of the panels are to have a closure strip secretly welded to the profiles at the outside edge. The strip (20x2mm 304 grade Stainless steel) is to sit proud of the horizontal profiles by 2-3mm.
- On the rear face of the metal grill is to be a powder coated perforated metal panel. Perforated panel is to be fixed to the wedge wire metal grill via a mechanical fix to rods.
- Fabrication method should ensure a consistent parallel gap and tangential grid between Rods and profiles.
- Distance between back face of profiles and perforate panel is set by air pressure requirements.
- Wane panels will not be accepted.
- All panels will be subject to approval of samples.
Details Specifications of The Wedge Wire Metal Grilles for the Cladding Uses:
Circular Column Stainless Steel 304 grilles:
960mm dia x 3200mm high
920mm dia x 4900mm high
920mm dia x 4450mm high
920mm dia x 3200mm high
870mm dia x 4600mm high
510mm dia x 3200mm high
700mm dia x 3000mm high
The columns are to have grilles made in 4 quadrants which are divided by stainless steel box sections. We also provide an alternative to supply column grilles in 2 halves.
In addition to the circular columns, there are some simple flat rectangular shaped stainless steel grilles as follows:
Flat rectangular ss grilles:
3000mm wide x 900mm high
3000mm wide x 2400mm high
2000mm wide x 2400mm high
1800mm wide x 2400mm high
3600mm wide x 900mm high
1200mm wide x 900mm high
1115mm wide x 3400mm high
1500mm wide x 2400mm high
2300mm wide x 2400mm high
2000mm wide x 150mm high
The specification for the rectangular grilles is the same as the circular columns.
A light perforated metal panel inside the wedge wire grille.
Wedge Wire Screens for Construction of Shade Plate
Atlas wedge wire is used in constructions, for building of shade screen plate. Our recent architectural project is to supply to UK.
Material: Stainless steel 316L
Project: UK, details in PDF.