Flat Wedge Wire Static Screen
Atlas supplies wedge wire flat panel for static sieve screening uses. Typical one is the following size with drawings illustrated. Custom sizes and orders are accepted.

The wedge wire is arranged in parallel to form a flat surface. The flat surface is further supported by welding to the steel rod.
Example Size of Flat Wedge Wire Screen for Electro Static Sieves:
Width: 383mm+/-2mm; or 483mm+/-2mm
Length: Maximum Length Possible
Load: Maximum 4.5kg / square cm
Opening: 5mm
Total height with support: 9.5mm to 10mm
Weight to be optimized: as low as possible
Support profile: to be flat
Material: S.S. 316 or S.S.316L

Wedge Wire Screen with Flat Support
Working Fluid Flow Direction: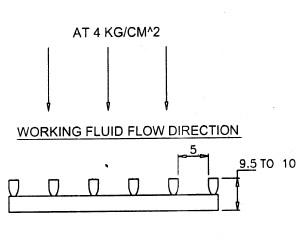 Welcome to contact us for custom order.