Shale Shaker Screen Wire Mesh Panels
We supply metal wire vibratory screen supplied in standard accessories or OEM for Various Shale Shakers and Other Motion Solid Control Devices. Our vibrating shaker screen is mainly used in oil drilling mud process, coal mine and various ore dressing and other industrial sifting screening. The screen panels can be designed with multi-layer or single layer flat panels, with or without backing plate support.
oil vibrating shale shaker screen
oil drilling filter vibrating-hookstrip flat shale shaker screen for solid
Hook strip Flat Oil Shale Shaker Screen
500 2000 hookstrip flat shale shaker screen in oil field shale shaker
1250 x 720mm iron frame shale shaker screen
Composite Frame Square Hole oil shale shaker screens
solid control equipment shale shaker screen
Waved type oil shale shaker screen mesh
Steel frame/composite/wave type shale shaker screen in Oilfield Shale Shaker
multi-layer or single layer flat panels
Quarry multi decks circular vibrating sieve shaker screen
Shaker Vibrating Sand Screen Applied in Quarry
Quarry Mine Vibrating Shaker Screen
gravel mining vibrating shaker screen
Varieties:
Vibrating shaker and sieve screen can be: crimped wire screen, mining screen and quarry screen made from metal wire mesh or polyester mesh fabrics to separate mixed material and to classify particle sizes.
Parts and Structures:
The oil vibrating screen is made with strips, frames and layers of wire screen cloths by welding or hooking or other forms of bonding. The Screen panels and plates can be combination of single-deck or multi-deck screen, so as to meet the requirements of a certain ore dressing process.
Strip or Frames: Hookstrip Flat Screen, Soft Screen, Framed Flat Screen, Framed Waved Screen, Hook strip Waved Screen.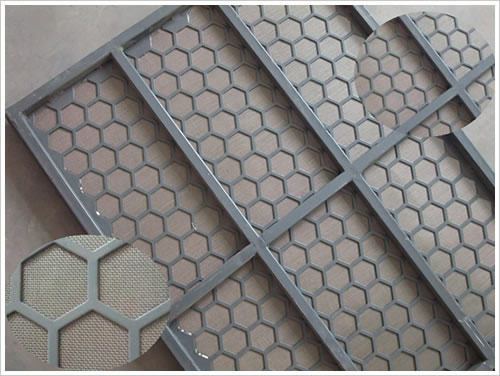 Multilayer Metal Screen Panels made with 304 Wire Cloth and Perforated Steel Backed Vibrating Sifting Screen
Wire Screen Fabrics Applied for Oil Field Vibrating Screen: Pre-crimped woven steel wire coarse mesh, polyester mesh fabric or micron slotted perforated metal plates, woven stainless steel mesh cloth.
Filter Mesh Cloth Ranges: 20mesh-275 Mesh
Common Size of the Screen Panels: 560*1800mm, 600*1800mm, 630*1250mm, 695*1050mm, 700*1050mm, 760*1830mm, 763*1115mm, 800*1250mm.
Materials:
Stainless steel 304l, 316l, carbon steel, polyester, nylon or dacron, rubber.
The materials shall be resistant to acid, alkaline, heat, corrosion, suitable for process of screening and filtering. Also wear resistance is very important for the screening materials as wear occurs badly on the panels due to rubbings between materials and panels during the screening process.
Plate: 2.0 mm ± 0.1 mm
Aperture: 40 * 40mm rectangular hole
1133 * 780mm * 20-325 mesh / 20 mesh Woven SS Mesh Screen with the upper mesh wire diameter: 0.08mm ± 0.01mm, aperture: 0.17mm ± 0.01mm; Lower mesh wire diameter: 0.32 mm ± 0.01 mm, Aperture:: 1.06 mm ± 0.01 mm
Features:
1. Tensioned mesh surface;
2. High damping capacity resulting in reduced noise;
3. Easy assembling and disassembling;
4. Good resilience leading to a higher bounce frequency of materials and increased screen efficiency;
5. Apertures of screen can be deformed within a certain limit, resulting in a reduced probability of aperture blockage by the material;
6. Screen panels and plates may be framed with different material in the pressure molding process, extending the service life;
7. The shale shaker screen for oil and gas industry can handle large liquid flow rate capacity;
8. Blinding resistance;
9. Durable & long lasting construction in drilling mud projects;
10. Different apertures of screen can be designed per the user's requirements.
Specifications for General Vibrating and Sifting Shale Shaker
Vibrating 500/2000 shale shaker screen
40mesh/20meshx700x1050
48-30D
80mesh/20meshx700x1050
120mesh/30meshx700x1050
160mesh/40meshx700x1050
40mesh-200mesh stainless steel woven wire cloth for above
Vibrating 500/2000 shale shaker screen
20mesh/12meshx700x1050
48-30D
40mesh/18mesh/12meshx700x1050
100mesh/40mesh/20meshx700x1050
160mesh/60mesh/20meshx700x1050
200mesh/60mesh/20meshx700x1050
20mesh-200mesh ss woven square mesh screen for above
Three tier conglutination screen mesh
40mesh/20mesh/12meshx715x1215
80mesh/40mesh/12meshx715x1215
120mesh/40mesh/20meshx715x1215
180mesh/60mesh/20meshx715x1215
20mesh-200mesh for above
Shale shaker screen
40mesh/12meshx900x1146
80mesh/20meshx900x1146
140mesh/20meshx900x1146
20mesh-160mesh for above
Vibrating sieving mesh
NS-115/2
60mesh/20meshx1150x1000
100mesh/20meshx1150x1000
Case Study:

Repairable and Replaceable Mesh and Screen
Flat and framed plate screen panels are mainly used for Vibrating type shale shaker screen system with repairable plate screen panels.
Materials: Carbon steel and stainless steel

Standard sizes:

De- 48-30D
40mesh/20meshx700x1050
80mesh/20meshx700x1050
120mesh/30meshx700x1050
160mesh/40meshx700x1050
Available Mesh per inch: 40-200

Repairable- 48-30D
20mesh/12meshx700x1050
40mesh/18mesh/12meshx700x1050
100mesh/40mesh/20meshx700x1050
160mesh/60mesh/20meshx700x1050
200mesh/60mesh/20meshx700x1050

Available Mesh per inch: 20-200

Uses: Oil field replacement screen.